PURCHASING OUTDOOR CAT HOUSES: A GUIDE
Feb 23,2022 | Eccqhome
1. Build Quality
The best outdoor cat houses feature a solid fir frame
Why?
fir frame's remarkable durability and resistance to extreme weather elements make it the wood of choice for long-lasting outdoor structures.
The fir is naturally highly resistant to insect attack, fungus, rot, and sturdy enough not to be blown in the wind.
2. Safety
Even before you click the button to buy that perfect home, you need to ensure that the house is safe enough for your cat. Moreover, the cat house should meet North American industry-standard safety and have a door space that only leaves enough room for your cat's entry and exit.
This prevents intruders and predators from freewill entry. Eccqhome Large Wooden Outdoor Cat House is sealed with pet-friendly sealant and enclosed with strong metal wire. This means your cat can fully enjoy the outdoors!
3. Insulation
Along with build quality, your kitty needs a well-insulated cat house. After an eventful day, cats love to come home to a comfortable and cozy place to relax. And with temperatures dropping to well below 10°C at night and below −40 °C in winter, you don't want your fur baby suffering in such extreme conditions.
If you don't purchase a house warm enough, your cat could find makeshift shelter in warm places underneath car tires, hoods, and engines, which can be dangerous. Go for Thermal-Ply insulated structures featuring all-round insulation — the floor, walls, and ceiling.
4. Design
Although design isn't something many think of when purchasing an outdoor cat house, it's equally important. Weatherproof design of this feline enclsoure is covered with asphalt for enhanced weather protection against both sun and rain, helping your cat enjoying the great outdoors without direct impact from the weather.The multi-tier cat house includes a paned window, sliding door, a small hinged door, and a ramp to help for easy access into the house.Large front door, with latches, creates an easy access point to put your cat into and pull your cat out of this amazing outside cat enclosure.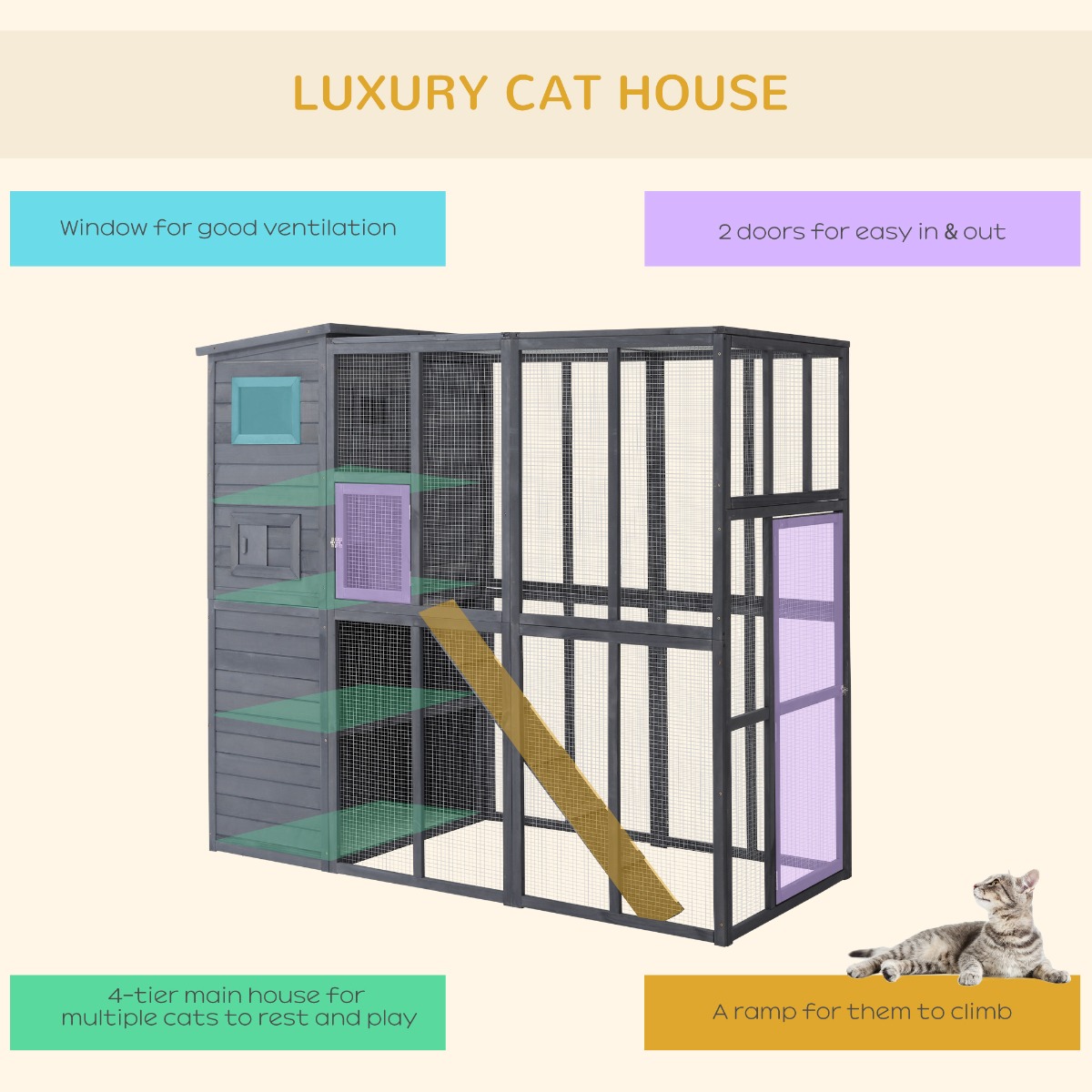 5. Attractiveness
It's no secret that cats are fussy. If your cat is not fussy, you at least know or have heard of one who fits the bill. Most cats will reject gifts such as toys, litter boxes, feeding bowls, costumes, etc. if they find them unattractive.Knowing your cats' tastes and preferences, be sure to pick a house that they will delight in.
Purchasing an outdoor cat house is an investment. When buying an outdoor cat house, it's vital to get the basics right. Take your time, and put the listed tips into practice and you're guaranteed value for your money.
Comment
Back to News.