Check out this outdoor grill for the perfect cookout at home or on the go!
With a rotating rotisserie top, you can quickly get delicious food cooked evenly without waiting so long. Including 3 large skewers and 11 small skewers to cook various meat and veggies. Crafted of a high-temperature enamel and powder-coated steel to promote longevity.
Comes with four wheels with brakes, you can take your charcoal grill on vacations, family outings, camping trips, or anywhere else.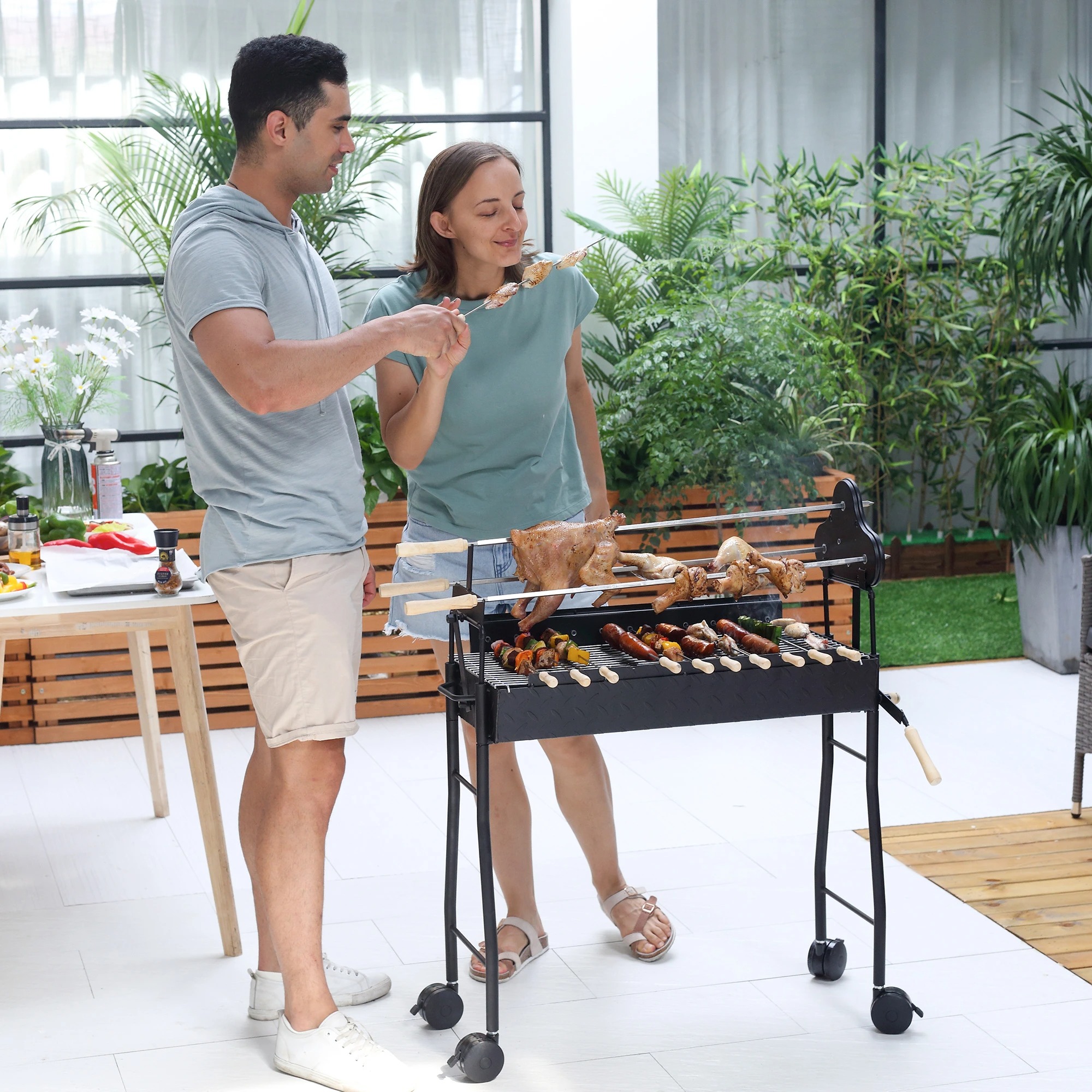 Highlight
- ROTISSERIE GRILL IN YOUR BACKYARD: Your outdoor grill's rotisserie section can be turned manually. Grill chicken spits like a pro in your backyard, cooking meat evenly on all sides. Furthermore, you can rotate the grill with a motor, but the motor is sold separately.

- LARGE CAPACITY: Our BBQ comes with 3 x large and 11 x small kebab stainless steel skewers with wooden handles included, suited for meat of any type. That means you can cook just about anything, such as chicken, lamb, goat, pig, or vegetables.

- EASY TO TRANSPORT: The four wheels on the bottom of the barbeque grill allows you to quickly move your grill around the backyard, patio, or campground. Plus, the wheels can lock in place to easily keep things stable while cooking.

- QUALITY GRILL CONSTRUCTION: This portable charcoal rotisserie grill is made from stainless steel with a high heat rating. This means it's durable, anti-rust, and sturdy for prolonged use.

- OUTDOOR PORTABLE ROTISSERIE BBQ GRILL DIMENSIONS: Overall Dimensions: 14.2" W x 33.5" D x 35.4" H. Electric grill motor sold separately.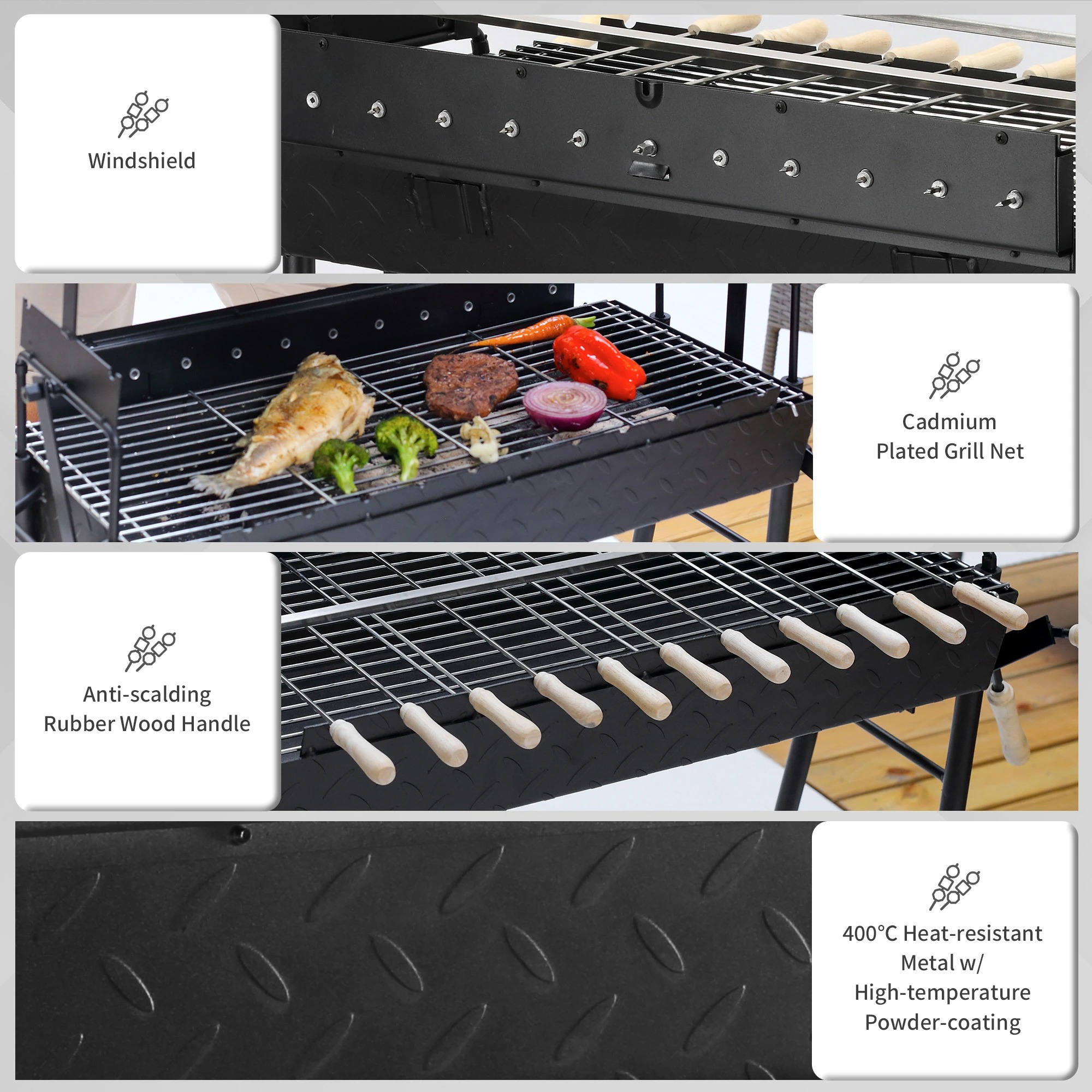 Features:
- Ideal for outdoor barbeques, family gatherings, and outdoor parties

- Suited for meat or vegetables of any kind, with either a manual or electric rotation on the rotisserie (electric motor sold separately).

- Easily cooks various kinds of livestock, like chicken, lamb, goat, pig while picnicking or camping

- Complete with a windshield, fire bowl, pedestal, and base in one for convenience

- High-temperature powder steel with 400℃ (752°F) heat resistance

- 3 x large skewers and 11 x small kebab stainless steel skewers with wooden handles included

- Stainless steel charcoal grid included

- Nylon wheels with lock for convenient transport and security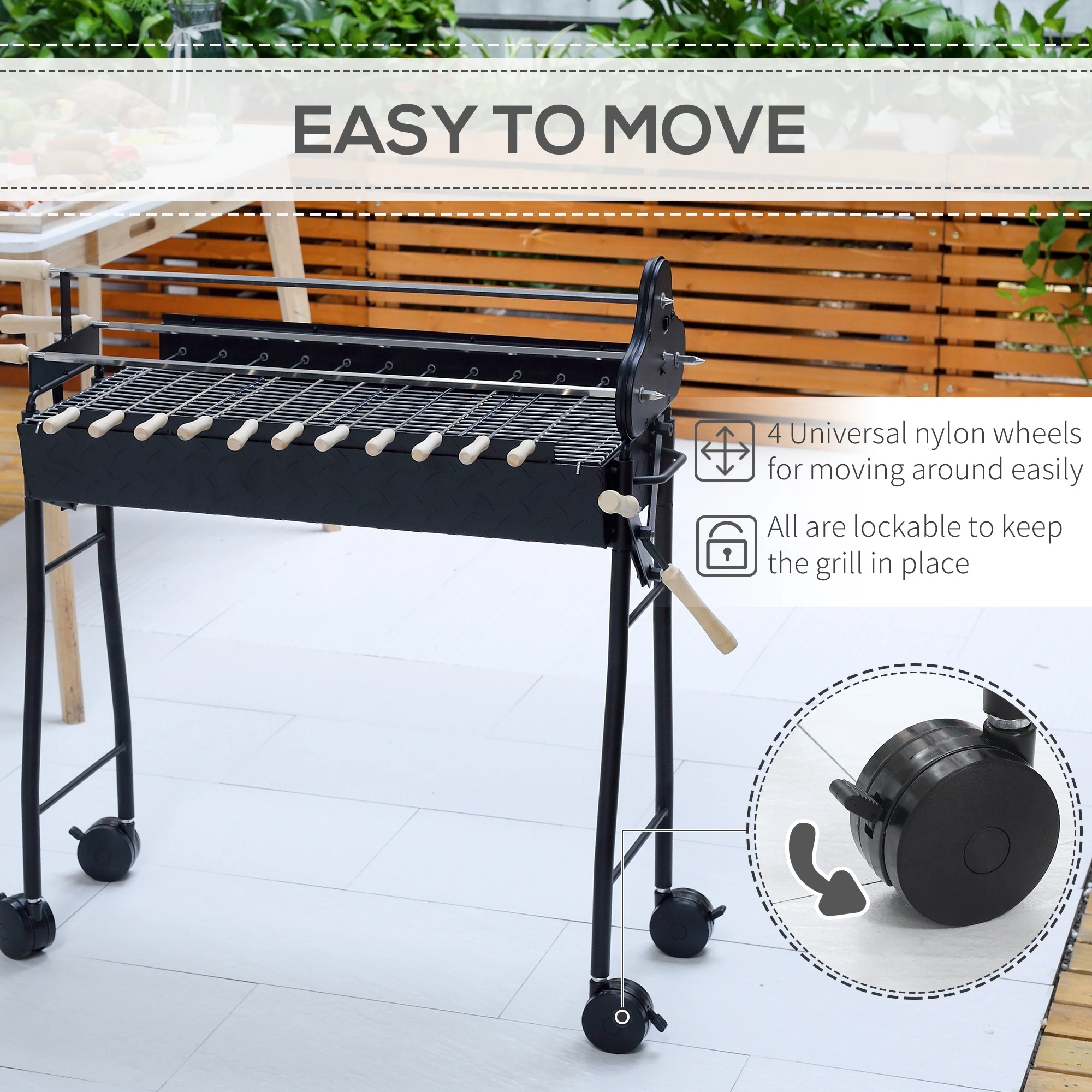 Specification:
- Color: Black

- Material: Steel

- Overall Dimensions: 14.2" W x 33.5" D x 35.4" H

- 3 Large Adjustable Skewers Height: 29.5" - 32.75"

- Furnace Dimensions: 27.2" W x 12.2" D x 4.3" H

- Grilling Net Size: 27" L x 11.8" W

- BBQ Skewers: 3 x 34.3" L, 11 x 18.5" L

- Leg Diameter: Φ0.9"

- 1 x Barbecue Grill

- 1 x Manual