DESCRIPTION
Less Effort & Remove Strain on Back & On Your Knees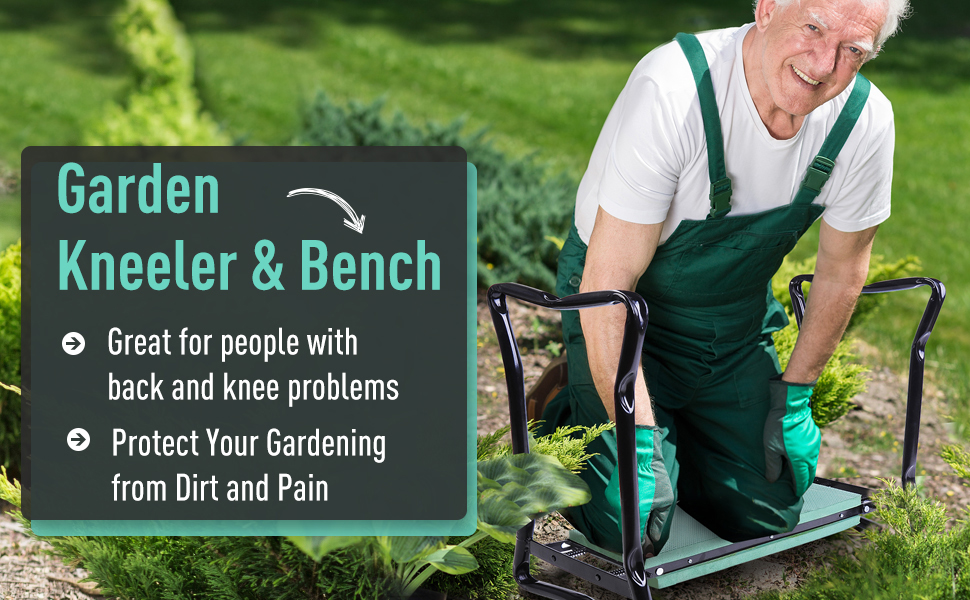 60% of people over the age of 55 experiences osteoarthritis, knee and hip pain. It can be frustrating to live with the chronic pain of these ailments. However, you don't have to give up your green thumb due to these issues. With Multi-functional Kneeler & Seat, you can keep doing what you love with minimal pain or no pain at all.

These items can also help aging seniors assess household tasks that may require getting down low to reach areas.
Can be used as a seat or kneeler with comfort padding of thick 3/4" foam pad

Cushioned surface is easy on the knees.

Extremely light weight and only weighs only 5.5lbs

Folds with ease. Comes assembled, and opens/closes in a quick snap so you can get down to your activity as soon as the sun comes up.

Use arm strength to raise and lower yourself, preventing back strain.

Complementary Tool Pouches: Attach them to this garden chair with Velcro, and have your clippers, pullers and spades right by your side.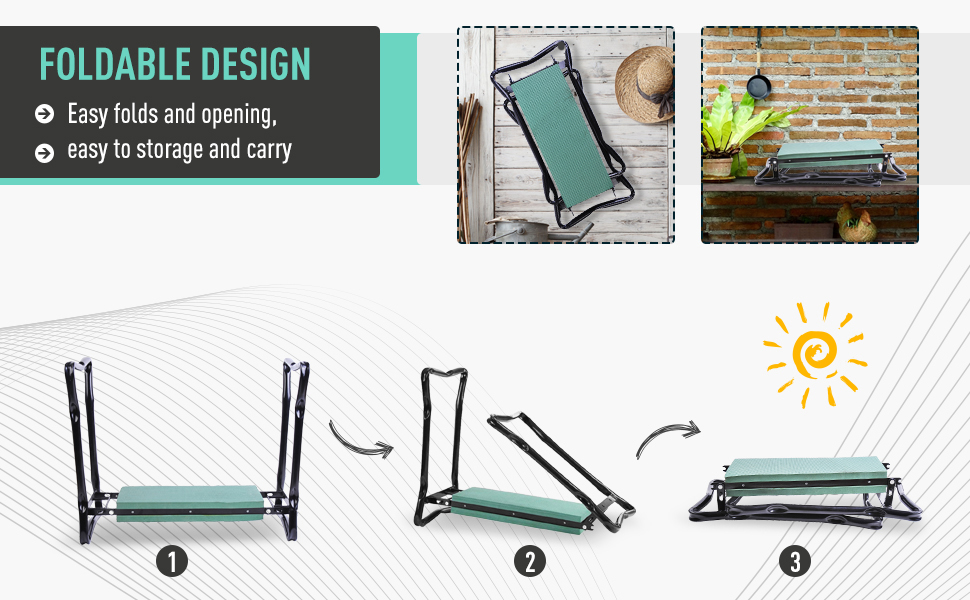 Perfect For All Ages
Thanks to the Folding Garden Kneeler & Stool you are able to rest your body, whether if you are sitting down or kneeling, on a comfortable platform while being busily involved in your garden, it is generously padded! It is a clever, soft kneeler made from robust steel tubing with a soft raised kneeling platform and accessible pockets on the sides to place your tools - it supports 150 kilos. It is perfect for all ages and garden enthusiasts. It's easy to assemble and folds for easy storage!
Suitable for a variety of uses. Can be used for gardening, camping, outdoor seating etc.

Suitable for all ages!

User Weight Capacity: up to 330.7lbs!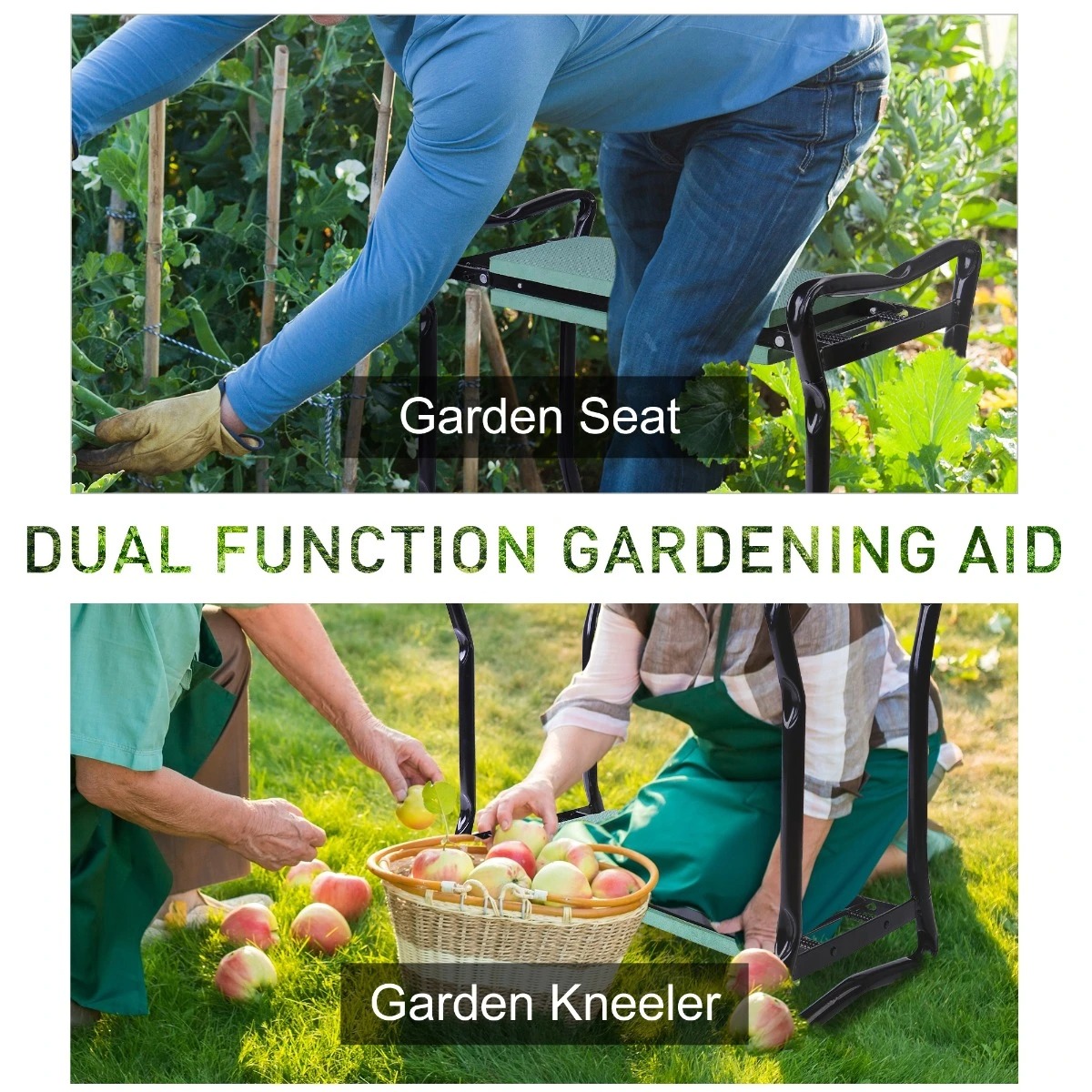 ⭐ Over 85,000+ customers recommend this product! ⭐
See what they have to say below.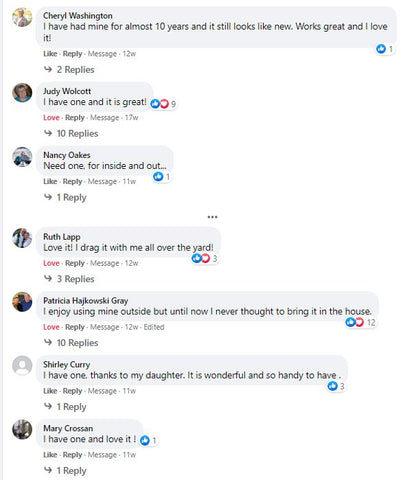 WHY BUY FROM US?
✅ We are the original seller of the Multifunctional Kneeler & Seat. Beware, there are a lot of companies trying to sell counterfeits online.
✅ Over 85,000+ Happy Customers & 2,500+ 5 star reviews. The quality of our product and service has resulted to this.
✅ Under 7 business day delivery with tracking from our warehouses in USA across 4 different states.
✅ We are backed up by 30-day Money Back Guarantee. If you have any issues, simply contact us and we will refund or replace it for you.

Highlight
- PROTECT YOUR KNEES: An ergonomic design helps prevent sore knees, assists with standing up, and provides a comfortable place to sit. Comes with a soft and long foam padding to provide cushion to your knees

- RETAKE YOUR GARDEN: This kneeling bench helps take back your garden, as it provides a stable and comfortable position for those with arthritis. Can be used as a seat when it is upright, or as a kneeling chair when it is turned over

- FOLDING DESIGN: A convenient design folds down for easy storage and storage. Spring-loaded handles make folding it down for storage an absolute breeze

- HIGH QUALITY: Our garden kneeler is made of a strong steel frame and EVA foam, which can protect your knees and provide support for your arms, making it easy to get up and down

- DIMENSIONS: Folded Dimensions: 23.5"L x 10.5"W x 0.5"H, Open Dimensions: 23.25" L x 11" W x 19" H
Specification:
Color: Black, Green

- Material: Steel, EVA

- Overall Dimensions: 22.8''W x1''D x19.3''H

-Folded size: 23.6'' L x 10.6'' W x 5.3'' H

-Cushion size: 3/4" per side

-Steel tube dia.: 22 mm, thickness: 0.7 mm.

-Weight Capacity: 330 lbs.

-Net Weight: 5.7 lbs.